A cold email is when you send an unsolicited email to someone without prior contact.
Sending cold emails is a very effective way for B2B companies to acquire new customers.
The issue is that most people don't understand how to write effective cold emails.
I have sent thousands of cold emails throughout my career, and have learnt what to do, and what not to do.
In this article, I will explain the 4-step process that I use to write cold emails. If you follow this guide, you will have a high response rate.
Below is my 4-step process: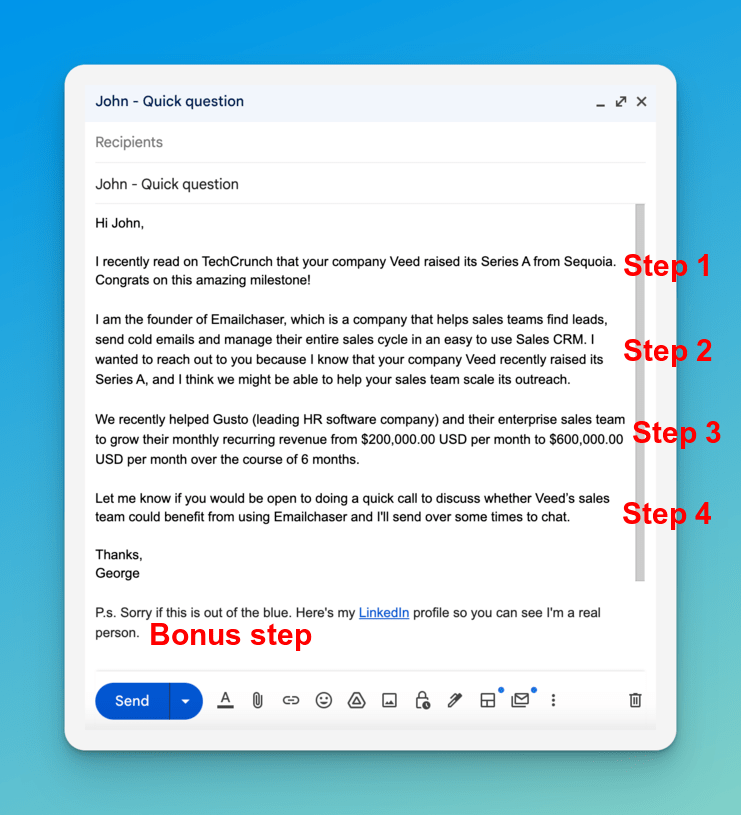 Step 1: Explain how you heard about the prospect
The first part of your cold email needs to show the prospect that you have done your research.
If the prospect thinks that you have sent them an email template, then they won't respond.
Explaining to the prospect how you heard about them and then giving an optional compliment is the perfect way to "break the ice" and establish that you aren't sending them a thoughtless email template.
This will dramatically improve your response rate. I would argue that the first one or two lines in your email are the most important.
Below is an example of a good opening section:
"Hi John,
I recently read on TechCrunch that your company Veed raised its Series A from Sequoia. Congrats on this amazing milestone!"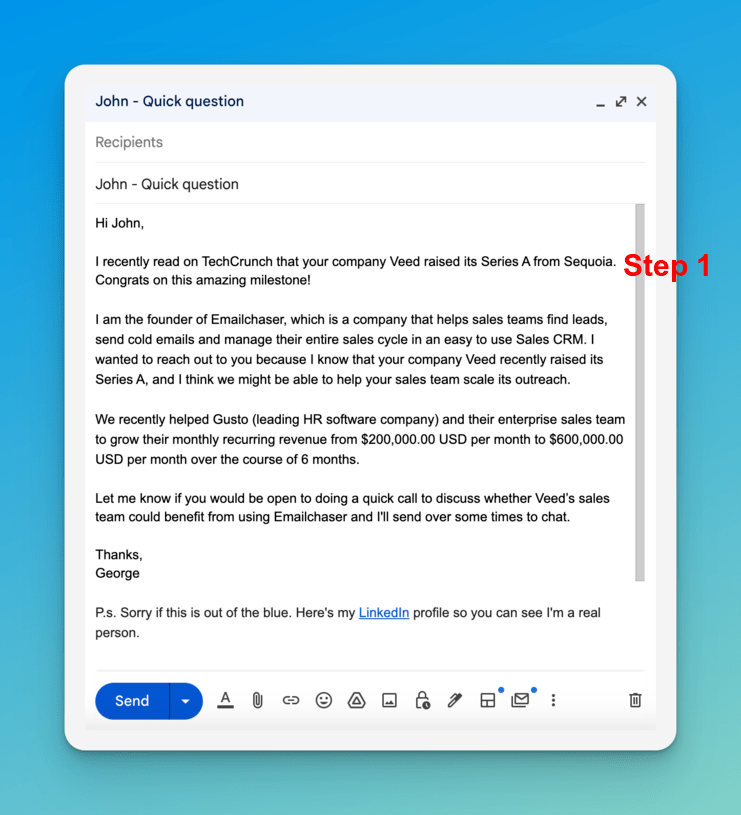 Step 2: Explain who you are, what you do and why you are reaching out
This section of your cold email is important as it helps the prospect understand who you are, what you do and why you are emailing them.
An example of this would be:
"I am the founder of Emailchaser, which is a company that helps sales teams find leads, send cold emails and manage their entire sales cycle in an easy to use Sales CRM. I wanted to reach out to you because I know that your company Veed recently raised its Series A, and I think we might be able to help your sales team scale its outreach."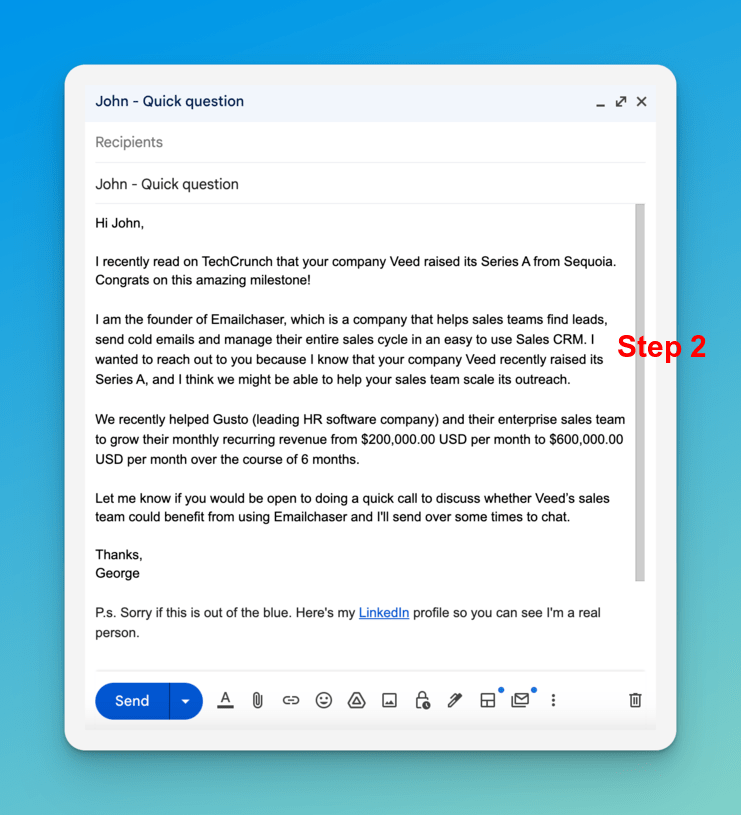 Step 3: Provide a relevant case study with a tangible result
The purpose of this is to establish yourself as a credible person.
Most prospects won't respond if they don't think that you can deliver results. Mentioning a relevant case study with an impressive result will make the prospect trust you more.
An example of this would be:
"We recently helped Gusto (leading HR software company) and their enterprise sales team to grow their monthly recurring revenue from $200,000.00 USD per month to $600,000.00 USD per month over the course of 6 months."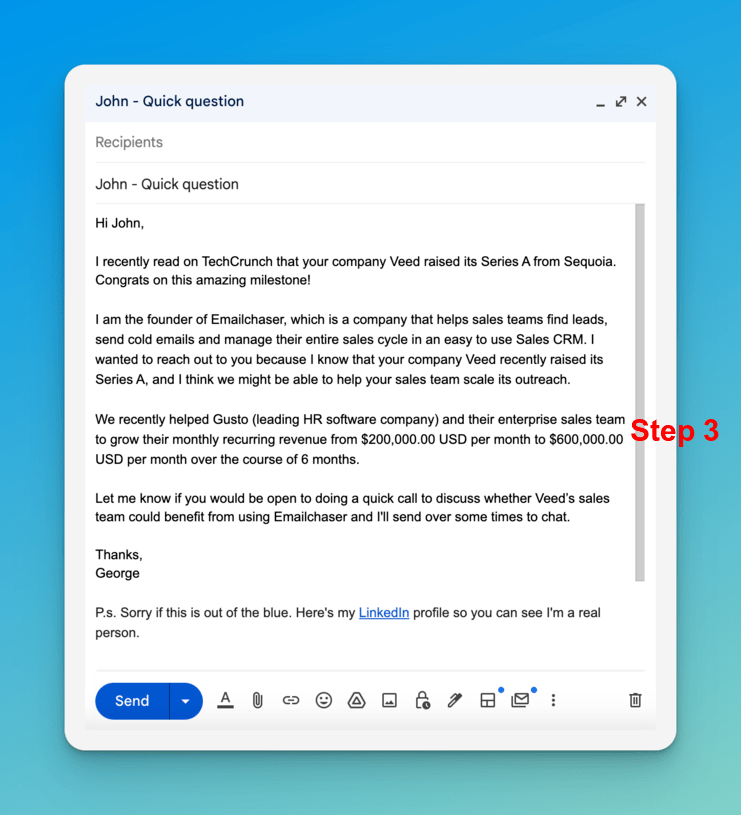 Step 4: Ask the prospect if they are open to the idea of a call
The goal of your initial cold email is to schedule a call with the prospect.
You are not trying to sell them in the first email. You are simply gauging interest and asking if they are open to the idea of setting up a call to learn more. It is during the call where you ask qualifying questions and see if your product or service can help the prospect.
Below is an example of what you can write:
"Let me know if you would be open to doing a quick call to discuss whether Veed's sales team could benefit from using Emailchaser and I'll send over some times to chat.
Thanks,
George"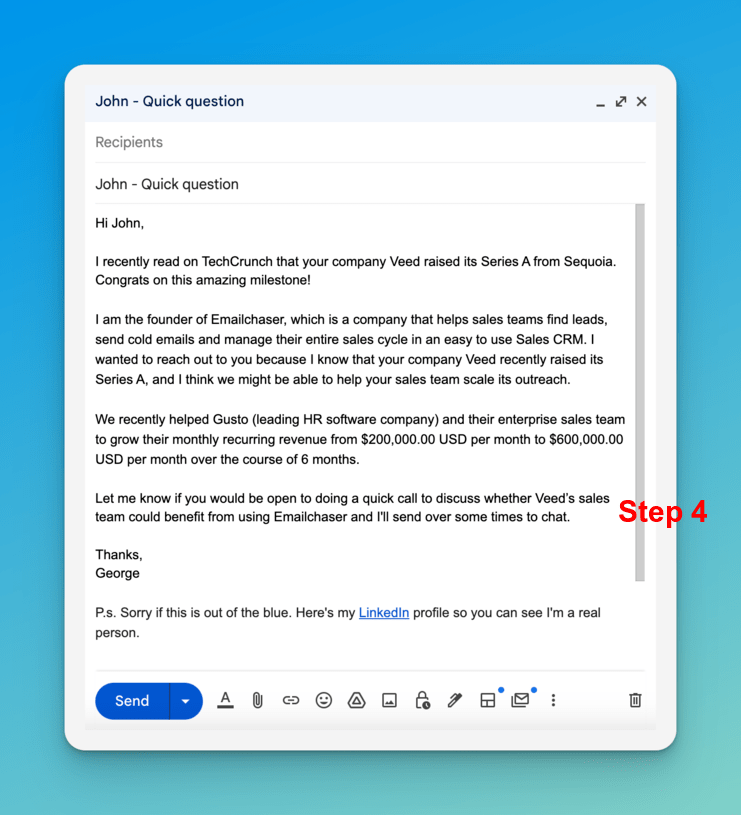 Another effective call-to-action is to ask the prospect if you can send over more information. You can write something like: "Would it be ok if I send over more details?"
I also recommend that you include a line that says something like: "If you're not the right person to contact about this, I'd appreciate it if you could please forward this email to the right person."
Step 5: Bonus step
Adding a short "P.s." line at the end of your email will double your response rate.
This makes your email seem personal, and will immediately separate you from the crowd of automated cold emails.
Below is an example of what you can write:
"P.s. Sorry if this is out of the blue. Here's my LinkedIn profile so you can see I'm a real person."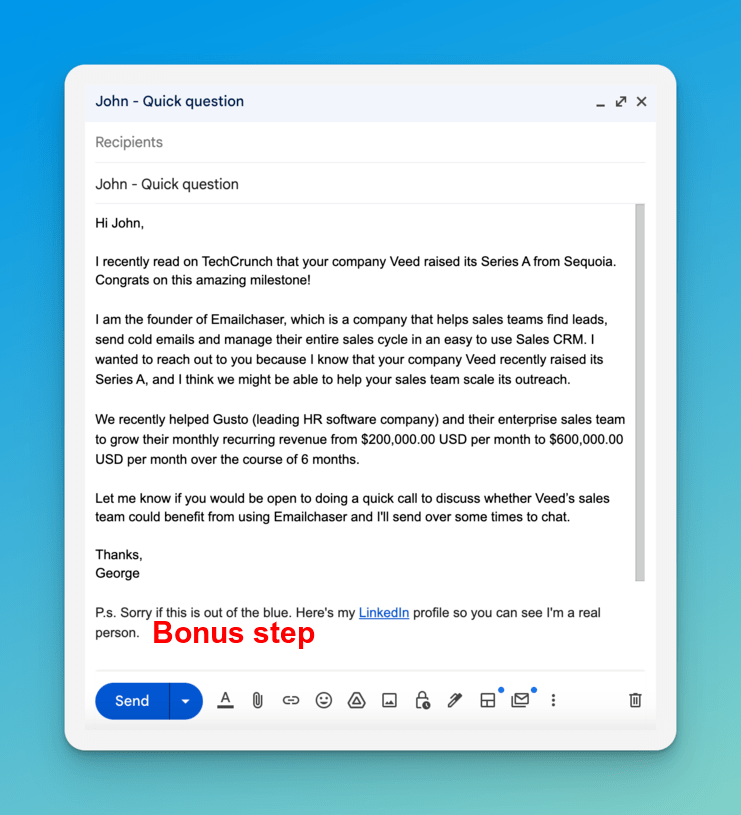 The perfect subject line
There are a lot of subject lines that you could use, but to keep it simple, I recommend that you use the below subject line:
[First Name] - Quick question
This subject line consistently gets open rates of more than 80%. Don't reinvent the wheel, this subject line has already been proven to work well.
I purposely make the "q" lowercase for "question" because this slight irregularity makes it seem more authentic and real. This increases the open rate as people only open emails if they think they are from a real person.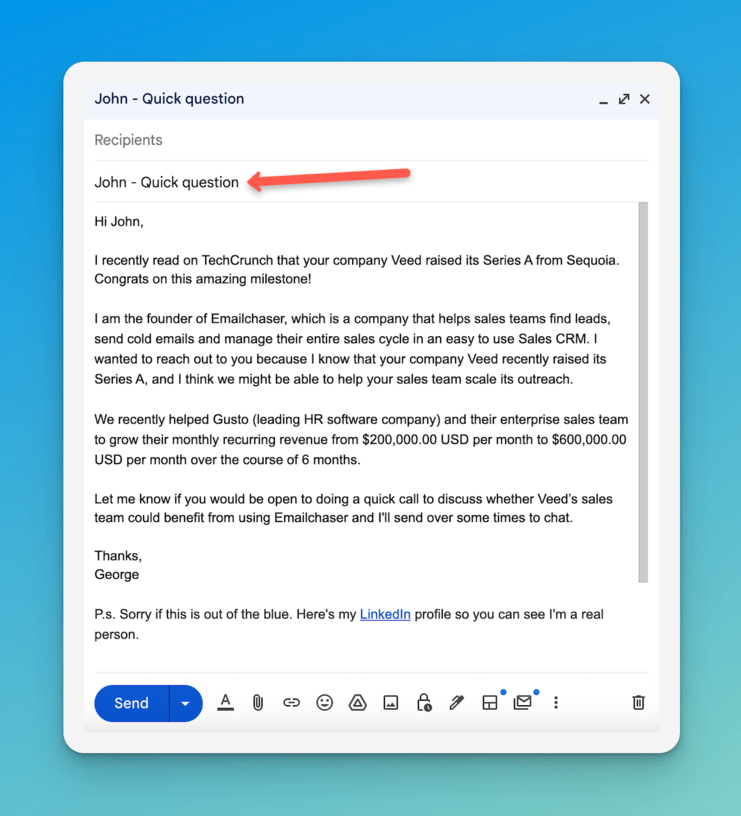 Check out my other article where I cover the 40 best subject lines for cold email.
Add an email signature
It is very important that you add an email signature to your email account.
Adding a professional looking email signature will build trust with your prospects.
Think about it, they have no idea who you are. You need to make it easy for them to do basic research about you and your company.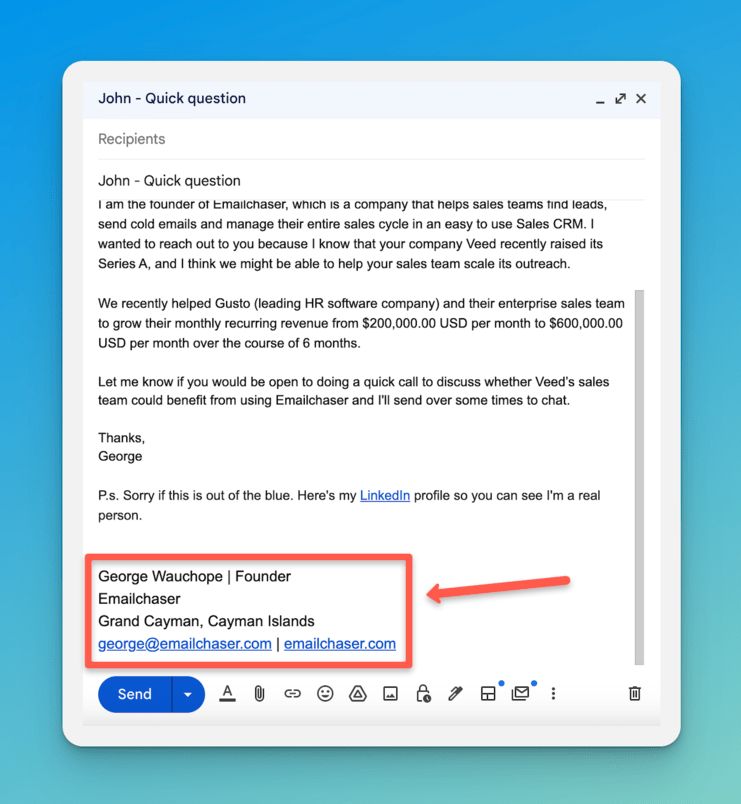 Your email signature should include the following information:
First line: First name, last name, title
Second line: Company name
Third line: Office address
Fourth line: Personal and office phone numbers
Fifth line: Email and domain
Below is an example of how I would set up my email signature for [email protected] (remember that emailchaserpro.com redirects to emailchaser.com):
George Wauchope | Founder
Emailchaser
13423 Streetname, Dallas, TX 28377
P: (832) 555 6453 O: (832) 532 6458
[email protected] | emailchaserpro.com
Below is a video that shows you how to add an email signature in Gmail:

How long should a cold email be?
The first cold email that you send should be relatively short.
If your email is too long, the prospect will delete it as they don't want to spend a lot of time reading.
At the same time, it shouldn't be too short, otherwise it will lack the information required to pursuade the prospect to respond.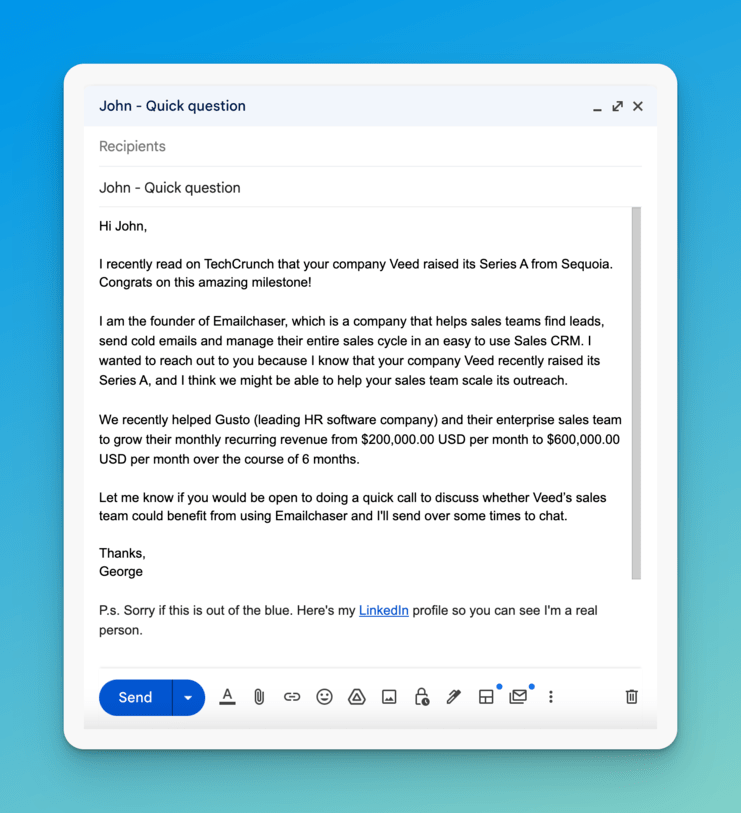 Check out my article where I show the top 17 cold email templates.
Cold email best practices
Below are some common best practices to follow when sending cold emails:
Don't include links, attachments, files or images in your first email to a prospect. Including these items in your first email can increase the chance that your email will go to the spam/junk folder of the recipient. The only exception to this is that it is fine to add a link to your LinkedIn profile and website as shown earlier in this article.
Keep your cold emails relatively short.
Send your cold emails during work hours (Monday to Friday).
Personalize each email for your prospects.
Send a follow up email to each prospect that doesn't respond. Schedule this follow up email to be sent 7 days after your first email. Most people are very busy, so following up will dramatically increase the number of responses that you get.
Final thoughts
I recommend that you write your cold emails by following my 4-step process:
Explain how you heard about the prospect
Explain who you are, what you do and why you are reaching out
Provide a relevant case study with a tangible result
Ask the prospect if they are open to the idea of a call
You should also add the bonus step (P.s. line) to the end of your email to increase your response rate.
To get started, sign up for a free Emailchaser account, and send your first cold email outreach campaign today!